Tsukuba Technology Co., Ltd
August.31.2018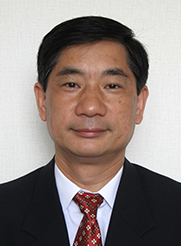 Please introduce your company
This year being our 13th year of operation, while formerly being a part of AIST, we are an independent research venture company that develops, manufactures and sells inspection devices. We mainly sell ultrasonic wave visualization laser inspection devices along with compact X ray inspection devices. We aim to build a world where you do not have to be an expert and inspect something broken anywhere.
Please inform me of the circumstances that brought about the company
Our CEO is originally from West China but studied abroad in Tsukuba University. After that, he went on to research for many years at AIST. In in effort to spread the technologies developed at AIST, he created this venture research company.
What are the advantages of operating in Ibaraki Prefecture?
Like you may already know, Tsukuba city is a place with a high concentration of research facilities. It also holds many centers for the development of advanced technologies. Further, because Hitachi city is the birthplace of Hitachi Ltd., there are many scientists, plants and personnel hard at work. I believe these advantages can not be found in any other prefectures but Ibaraki
Please tell me about your company's future plans?
We are currently planning of spreading our product not only in the domestic market, but on the global market. With the 2020 Olympics around the corner, devices used for event security, are becoming more common. Further, with Japan's aging society, medical treatment is becoming more abundant and compact photographic X ray inspection are more commonly used. While taking advantage of these trends we plan on expanding our sales and produce products that will be more useful to our buyers.
What is your message to foreign companies thinking about operating in Ibaraki Prefecture?
Ibaraki Prefecture has various types of big, medium and small sized companies and venture companies. In an effort to support foreign companies, Ibaraki Prefecture is putting forth programs to attract more companies, such as financial support programs.
From agriculture to advanced technologies, Ibaraki is said to be of the most blessed Prefectures in Japan that holds benefits for any business fields. We hope you come and visit Ibaraki Prefecture to experience these benefits first hand by meeting with government officials and other representatives.