The Confirmation Certificate was issued to a foreign entrepreneur who is aiming to develop space rockets in Tsukuba
  Mr. Aron Lentsch from Austria, who aims to develop reusable rockets for manned spaceflight in Tsukuba, is the first user in Ibaraki of the Startup Visa System (project encouraging foreign entrepreneurs to start businesses), and received a confirmation certificate on September 8th, 2020 from Mr. OIGAWA Kazuhiko, the governor of Ibaraki.
  Mr. Lentsch is able to obtain a maximum of 1 year of residence status to make necessary preparations for his startup after applying to one of the regional immigration bureaus with the Confirmation Certificate, and passing their screening process.
At the ceremony, Mr. Lentsch explained his business plan which aims to build manned, low-cost reusable rockets that will fly at an altitude of 200km.
  Mr. Lentsch also mentioned his reasons for establishing his startup in Ibaraki by stating, "Ibaraki is not an overcrowded area so that will allow me to set up an office and testing facilities at a close proximity to each other". He also expressed his appreciation to the Ibaraki prefectural government for their support towards space business, and his ambition to have a successful business.
  The governor commented, 'I am very glad to be able to issue this Confirmation Certificate. I look forward to taking a ride on Mr. Lentsch's rocket.'
  As a precaution for COVID-19, Mr. Lentsch virtually attended the ceremony from his home in Tokyo using a remote controlled robot called 'temi'. (The robot was sponsored by Unicast Inc.)
Check here for detailed information on the Startup Visa System, (URL).
https://www.pref.ibaraki.jp/soshiki/eigyo/global/documents/en.pdf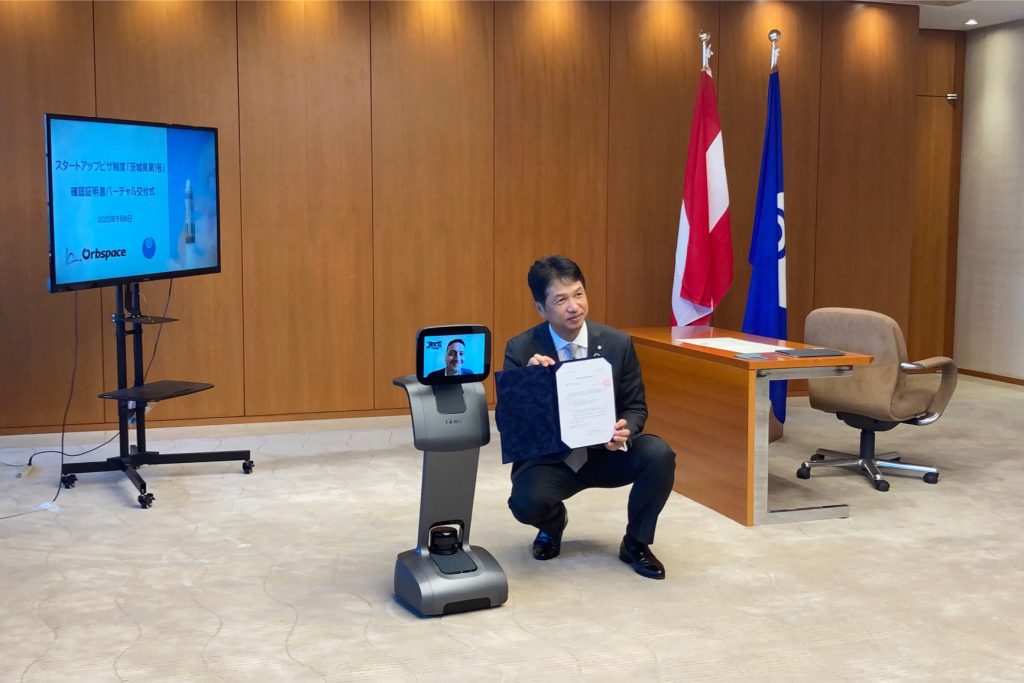 From left to right, the robot 'temi' remotely controlled by Mr. Lentsch, and Mr. OIGAWA Kazuhiko, the governor of Ibaraki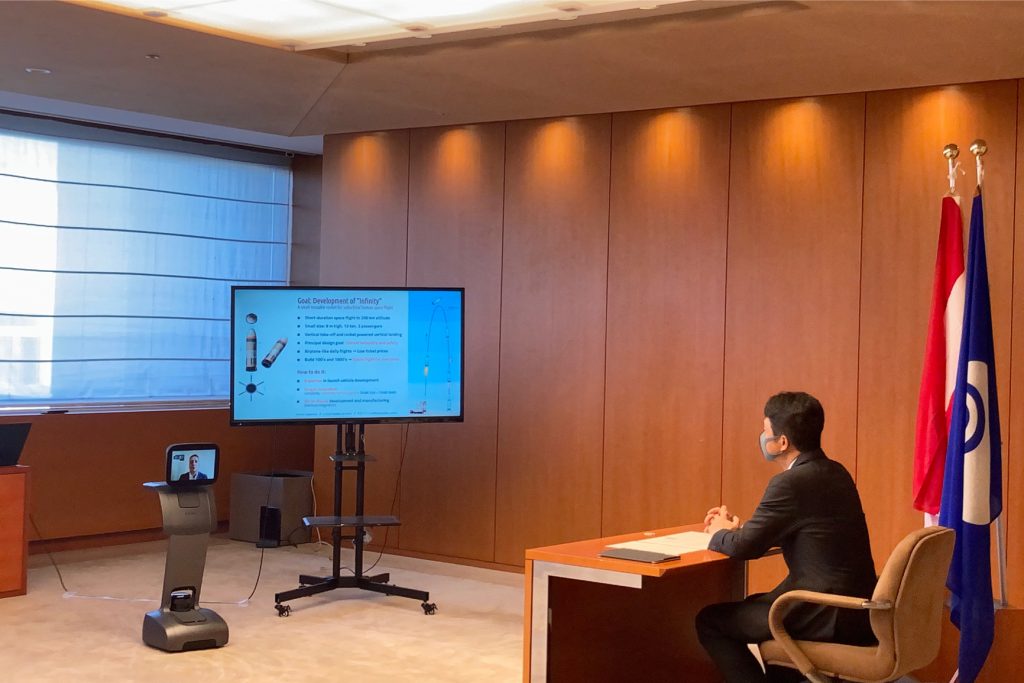 Business plan explanation by Mr. Lentsch