Support for startups is provided by Ibaraki's One-stop service
Support contents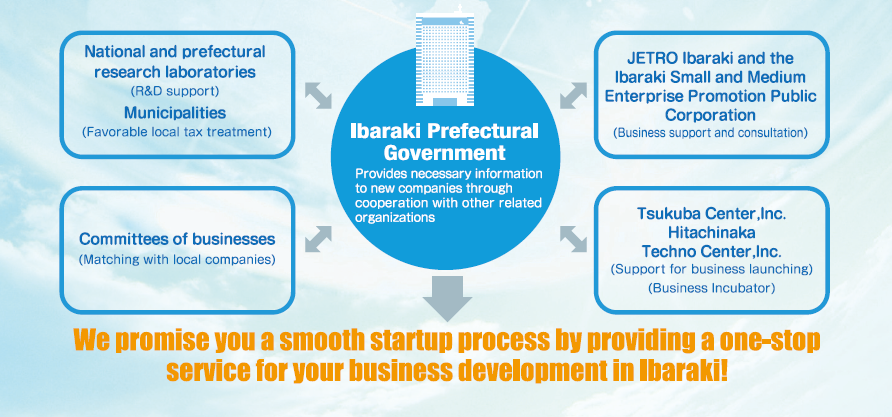 ①Bridge between Institutions and local companies
We can connect your company with institutions such as AIST, NIMS or KEK.
②Benefits
For more details, please refer to section below.
③Information on real estate and incubation offices
We provide information office rental or real estate.
④Information on the Ibaraki lifestyle
We can also provide information on education (international schooling) hospital and other life-related support.
We are able to arrange inspection tours to Institutions you wish to visit.
Benefits for foreign business setting up in Ibaraki Prefecture
Eligible Companies
Prerequisite
Foreign businesses that are looking to set up new office/headquarters ※ in Ibaraki Prefecture.
① Foreign Funded Companies(Japanese enterprise that are more than 1/3 funded by foreign capital)
② Companies affiliated with ① (100%subsidiary of ①)
③ Foreign Companies(Foreign owned enterprise
Facility or facilitation zone that functions as headquarter, research facility or office and employs more than 1 employee at all times.
(However, residence, shops or accommodation facilities are excluded.)
Type of Subsidy
Detail
Rate of subsidy
Establishment Fund
・Market surveying expenses
・Application processing expenses
・Acquisition of Status of Residence expenses
・Interpretation, translation fees associated with the above
Within 50%
(below 2 million yen)
Rent
Rent for office facilities within 12 months from the start of contract
Within 50%
(below 2.4 million yen)
R&D Expenses
Labor cost, subcontract cost, supplies expense, depreciation cost, and other costs associated with research and development
Within 25%
(below 2 million yen)
〇Requirements apply to receiving the above benefits. Additional benefits might also be available upon request. Please inquire for detail.
Please contact us first when considering to apply.
Applicants click here!
Application guide for subsidy for foreign-affiliated companies in Ibaraki (PDF:110KB)

Application form (Word:30KB)

(Japanese)